Review: Skullcandy Lowrider Headphones
Last week I had two sets of headphones go bad on me in the space of three days. The first pair was my set of Sony Pysc over-the-ear headphones.
Pretty nice, I've had them for years and I really love them. Planning on giving it a shot to bring them back to life with the soldering iron.
The second pair was some cheap Wal-Mart replacements for the Pysc's.
After those died I decided to suck it up and grab a new pair of good headphones. I headed over to The Mart over lunch and picked out a pair of Skullcandy Lowrider headphones for sub-$30 before tax.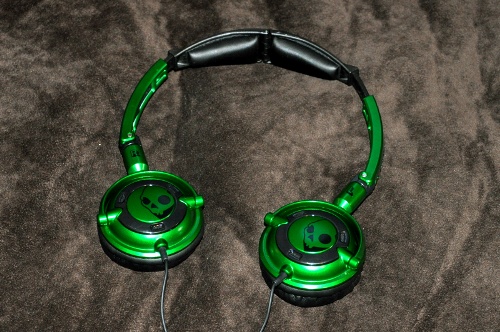 They aren't bad, especially for a quick buy. Snazzy looks, 40mm driver, comfy padding, good isolation and they fold up nice. They are a bit floppy in the joints until you get them on your head, which feels (and probably looks) pretty silly. Cord is a bit shorter than I would expect too.
The unfortunate surprise came when I hooked them up. They sounded great in the store, but back at the office they were flat. Too much bass and mids. My guess is that they are optimized for hip-hop or something else. Either way, it wasn't what I liked.
No problem though, after some experimentation I found an EQ curve to make up for the difference. This is what I worked out in Amarok. It feels right to me, I ran it through some Say Anything, Pedro The Lion, and Showbread. Reasonably diverse and fits my music taste.
| | | | | | | | | | |
| --- | --- | --- | --- | --- | --- | --- | --- | --- | --- |
| 1.2 dB | 1.9 dB | 0.0 dB | 0.5 dB | 1.9 dB | 1.2 dB | 0.0 dB | 2.3 dB | 4.2 dB | 4.2 dB |
| 60 Hz | 170 Hz | 310 Hz | 600 Hz | 1 kHz | 3 kHz | 6 kHz | 12 kHz | 14 kHz | 16 kHz |
End result? I like them, probably won't take them to the coffee shop for fear of looking goofy, but they are pretty good for home or work listening.
Bonus Review - Skullcandy Warranty Registration
The Skullcandy website says it takes "only 10 minutes" to register your headphones for warranty. Plus you have to register on their site. Really Skullcandy? That's the best you can do? No thanks, I'll take my chances without a warranty.